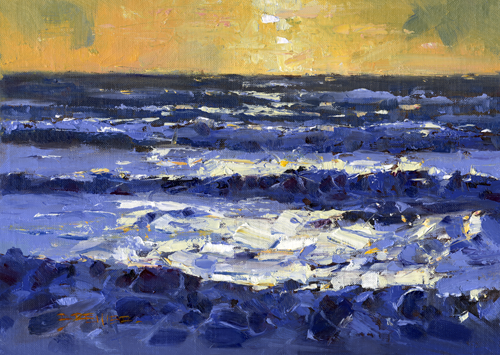 October in Galveston was a first for me. The island and I go back almost 50 years beginning in the 1960s where vacations almost always ended up with our car heading south from Wichita Falls for a long drive to the Gulf. My adult years didn't change that tradition but now it's only a 5 hour drive.
Brutal heat and humidity were, or course, the norm for "island time" so visiting there recently in the Fall was ideal as weather goes. Not that I didn't enjoy the place no matter the conditions, but it was so different that it didn't seem like the same place. I didn't bring my painting gear since we were only going to be there for two nights but I planned to take a lot of photos for studio use and "From the Jetty" is a result of one of those photos.
It was early morning just at sunrise and the water, waves and foam were beyond beautiful. As an added bonus, porpoises were vaulting themselves completely out of the water near some nearby surfers. 
I took the reference photo looking directly toward the rising sun from one of the jetties using a warning sign on the jetty to block the light from my camera. 
#233 From the Jetty - 9x12-inch oil on canvas panel is available for $150 unframed.