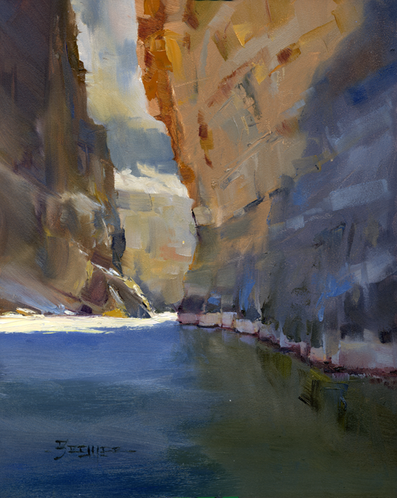 Santa Elena Canyon stretches for seven miles along the Rio Grande in Big Bend National Park. The limestone walls on each side of you eventually climb to 1,500 feet and form the border between the United States and Mexico.
History is rich here with thousands of archaeological sites within the park which hold traces of the material remains of 10,000 years of Native American occupation of the Big Bend. Some cliff art can be found in this canyon if you know where to look.
On a rafting trip many years ago, our guide took us on a side canyon tour where we were able to cool off in a small but deep pool of water. Surely some of the purest water on earth, having been filtered through solid limestone for many years before eventually exiting the rock at the base of the cliff. There were even ferns growing out of the overhanging formation above us.
This oil on Gessobord is 10x8-inches.