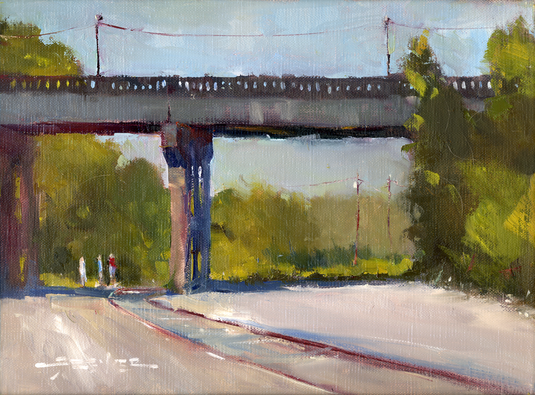 There was a time, not so long ago, when highways actually went right through small towns and burgs, giving travelers an intimate perspective of American life in locations unfamiliar. Nowadays, interstates almost always bypass these quaint towns in exchange for the convenience of getting where you're going much faster.
This old viaduct, built in 1933, was (and still is) a spectacular entry into the small town of Waxahachie, Texas. Travelers crossing over its two lanes, high above the road below, had the pleasure of seeing the impressive 1895 courthouse just a few blocks to the north. I'm sure it was a welcome sight to weary souls looking for a place to eat or rest. And while this experience is still possible (the courthouse and town look about the same), things will be changing soon as the viaduct will be torn down and replaced due to some structural issues. 
I've painted this scene several times and will miss having it around. I'm thinking that the new structure won't have the same appeal. 
The title of this work, The Senior Pic, is due to the family that walked by my easel on their way to the tracks under the viaduct for a photo op. I was able to capture that moment in the painting.
The Senior Pic - 9x12-inch oil on canvas. 
$450
By the way, this is the same location that was filmed in the Oscar-winning movie, Places in the Heart, from the 1980s.
Thanks for reading.