You might be right, but...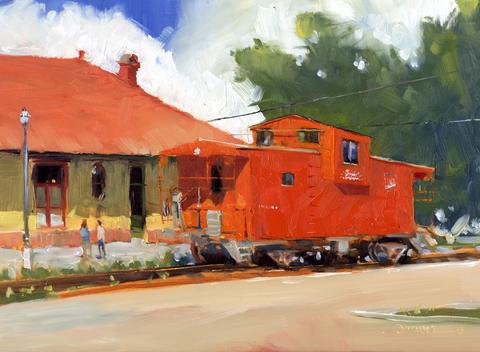 One of the most common things I hear from people stopping to take a look at what I'm painting is, "I can't draw a straight line, much less paint." Statistically speaking, there's a good chance that you can't. But just as most people can't master singing (outside of the shower), or playing an instrument such as the piano (beyond Chopsticks), painting is not for everyone. Trust me, I've struggled with this myself many times. My wife has to constantly remind me that, yes, I can actually paint. And while she's somewhat biased, she's also brutally honest.
Though I'm not always convinced that I have enough talent to keep this whole painting thing going, I do realize that there are a lot of people out there that truly can't paint. Some are even the fine art equivalent of being tone-deaf (maybe paint-blind) with absolutely no clue of their shortcomings, at least to my untrained eye. With that said, I do admire anyone that will stick with something like singing or painting, no matter what anyone thinks. It might be painful, but it's admirable. And many of those artists have made a living selling their works as soon as they leave the easel, so what do I know? But I'm thinking that if there was an American Idol competition for artists, these would be the ones that are completely shocked and in tears when they are told "THANK YOU" midway through their painting performance.
A few years ago I decided to take the plunge and buy a set of oils and brushes. After decades of mostly painting with watercolors, I wanted to try something I've always been curious about. Would this be a step in a new direction, or a complete failure? I really had no idea. So one of my first attempts with oils was a plein air of the Katy Depot caboose in Waxahachie (see exhibit B). In the Spring of 2012, several local plein air artists were invited to paint during a miniature-train exhibit that was held inside the depot. In spite of the fact that I had no clue about technique or how to begin, I jumped in with both feet. I was hoping that since I had a lot of experience with watercolor that I could adjust and learn on-the-fly. How much different could it be?
Long story short, it wasn't an encouraging experience. The possibility that I had wasted money on new supplies was crossing my mind with each brush stroke. Even though I knew that you have to go through a lot of canvas to even approach a decent painting (for most artists anyway), I was embarrassed for anyone walking by to see the atrocities that were happening on my canvas. "I'm new at this whole oil thing" and "I usually paint with watercolor" were my constant apologetic disclaimers for the day. Oh well, I would rather have my first attempts be my worst attempts than the other way around.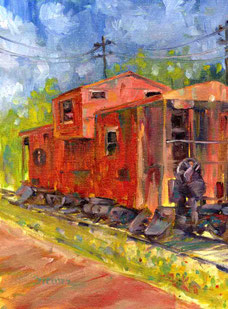 Fast forwarding some 15 months (and 47 paintings later) I thought it would make for a good topic to show how I have progressed during this time, if at all. The painting, Katy Depot Caboose (see exhibit A) is a plein air of the same subject, but from a different angle with the Katy Depot in the background. I painted from across the street with my easel set up on the historic Rogers Street Bridge. 
Looking at these two in comparison I feel a sense of encouragement in that I can see definite improvement. In fact, this work won an Award of Merit at the 2015 Plein Air Southwest Salon. 
Now back to my initial rhetorical question of whether you think you can't paint or not... maybe you can't, but maybe you can. Just don't give up after one try. I will add that if you don't see any improvement over the next 47 paintings, as my Dad would have said, "try about 10 more and then give it up all together."