My son and I recently took a camping trip to Copper Breaks State Park in far north Texas. I didn't bring any painting gear but I did take a camera, hoping for a few reference photos to bring home. The park is probably best known for its spectacular star-gazing which, by itself, is worth the drive. After a we arrived on a Friday night we set up our tent and gear by the light of a lantern, constantly distracted by the astronomical display above us. I couldn't wait to get a fire going so I could relax and enjoy the show which included several meteors. It is impossible to sufficiently describe the beauty of God's creation out here in the middle of nowhere - with "nowhere" being a 21st century definition of a place with no cell service. More on that later.
The first night was as good as it gets, which means that we didn't drive all that way only to settle for an overcast sky. And followed that up the next day with exploring, hiking, eating and relaxation.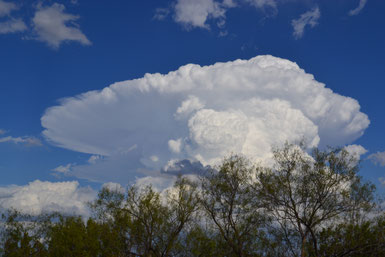 But that evening, things started to change weather-wise. A HUGE anvil cloud began to build to the east, usually a pretty good indicator of an unstable atmosphere. Since there was no cell service, I listened (old school) to the car radio for any storm warnings and found out that we were in for some severe weather, which may include "strong winds, lighting and tornadoes." In fact, there were reports of on-the-ground tornado warnings in Oklahoma just to the north.
So, no stars on this night, but there was still an impressive show.  As darkness fell the lightning was almost as impressive as seeing the milky way the night before. But then the storm front hit and gale-force winds tested our tent's sturdiness. Our's passed the  test but our next-door campers had near disaster as they struggled to keep their's from heading off to Oz. Pretty scary stuff really, but the winds only lasted about 20 minutes. The temperature had dropped about 20 degrees and it rained all night but we were nice and dry in our Eureka dome tent, which I now appreciate more than ever. In Texas, it just doesn't pay to have a cheap tent. 
---
Copper Breaks State Park, to me, is the lesser-cousin of Palo Dura Canyon and Caprock Canyon to the west. It has a similar terrain but not quite the canyons you will find at those parks.
It has its own beauty in the red-rock bluffs that overlook vast plains that once were home to Quanah Parker and his Comanche brethren. Sit here in the quiet of dusk and you can get a sense of what it must have been like to live in this area, completely dependent on the land for survival.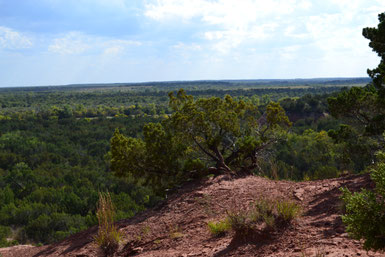 On one of the many hiking trails in the park we stopped at an overlook that had a well-worn juniper tree growing in nothing but sandstone. I love subjects like this that have a no-doubt center of interest and tons of atmosphere behind it. As soon as I saw it I knew that I would get a painting out of it. And now there are four. 
If you would like to purchase any one of these four paintings, just click on the image for more information, including availability, size and price.
Thanks so much for reading.