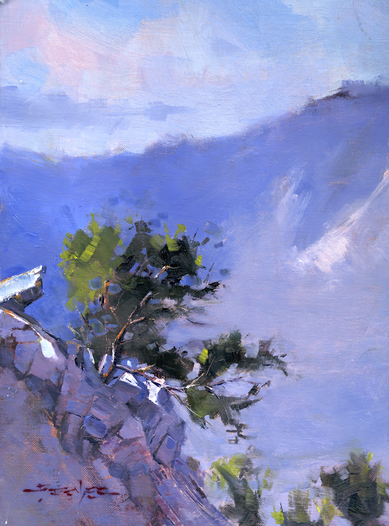 This painting took about two hours to complete, but its journey began over thirty years ago. That's right, over three decades! I know what you are thinking. Probably should be a little more, um, awesome, considering. Well, consider this Chief, it is the only one of its kind in the entire Universe! 
So's a fingerprint, right?
But I digress. As I said, many years ago this painting's journey began. I was hiking up Emory Peak in Big Bend National Park. One of the highest peaks in all of Texas. High enough, in fact, that the park Lodge and Gift Shop far below looked like Legos.
Looking down into the Chisos Basin, I photographed this view. Who knew that some thirty years later this snap of the camera  would become a slide which would be the subject matter for a painting in 2019. Wow, is it really 2019? By the way, what's a "slide".
Back in the late 20th century I tended to use slides for my photography. For you younger folks, slides are...oh just Google it. Anyway, as an artist I am constantly looking for subject matter to paint, so one of my resources for in-studio works are my old slides. My process for these involves scanning them at high resolution for use from my laptop.
So there you have it. A really really long journey...but wait! There's more. Oh so much more.
Before I started laying paint to canvas, first I had to create some 358 other paintings...each adding in their own way to my ability to create this one, through trial and error, frustration and satisfaction, wanting to give it up completely, and then reconsidering a few days later.  Are you grasping this? Art is a journey. Okay, so maybe I'm overselling a bit here. But there really is a point to all of this if you think about it.
So with all of that, let's review the steps taken for composing and completing "View from Emory Peak":
Step 1. Drove to Big Bend (about 10 hours).
Step 2. Hiked up Emory Peak (8,000 feet above sea level).
Step 3. Photographed the view.
Step 4. Painted 358 other works of art (about 30 years).
Step 5. Applied paint to canvas (about 2 hours).
Waalah! And there you have it. The long journey of a typical painting. Now, go buy someone's art. This one can be purchased here.
And below, for no particular reason, is a picture of a strapping young me in 1994-ish, hiking and sporting a fine mullet.